2019 Pump Out Boats 19 to 23 Feet
Description:
Environmental Pump out Boats from 19 to 23 feet is the perfect answer for a high quality, low maintenance, customizable, multi-purpose utility craft at a cost-effective price. It is designed to be user-friendly with a smooth riding V-hull and a fully self-bailing cockpit large enough for the most demanding jobs yet easily managed by a single operator. Fitted with a below deck gallon molded fiberglass tank and an Edson electric diaphragm pump, it makes short work of sewage pumpout and transfer jobs. The tank is quickly and easily emptied into a shore-side station, taking less than 15 minutes to complete hookup and transfer. The connections for both pumpout and discharge are simple and mistake-proof, allowing minimal training time for operators. The Alcar Enviromental pumpout boat smooth molded, easy-clean tank makes shut down simple. Coil up the hoses, close the hatch and even the most discerning yachtsman won't know its a honey wagon.200-600 cargo capacity Various Options and Pricing..Contact Maritime for Specs and Pricing..


Price: $45000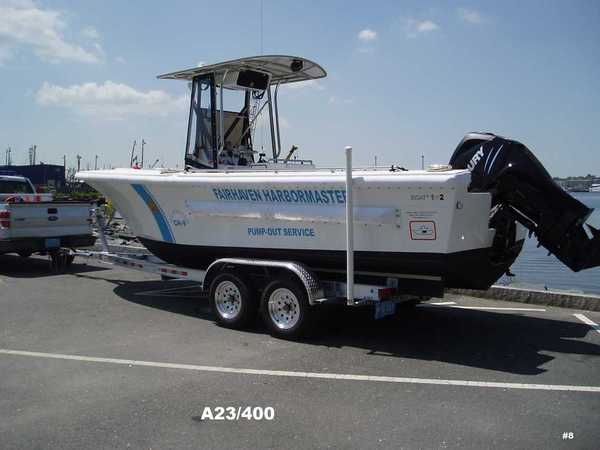 ---
BOAT TRANSPORTATION | AUTO & FREIGHT TRANSPORT | MARINA & BOATYARD EQUIPMENT

7 Maplewood Street, Mattapoisett, MA 02739
TEL: 508-758-9409 | FAX: 508-758-4014 |EMAIL: boattransport@comcast.net
© Maritime - Boat Transporation and Marina & Boatyard Equipment. All Rights Reserved.