2016 Broward Auto-Boat 48ft. Gooseneck 21,000gvwr
Description:
You can carry both cars, boat and sailboats with this trailer! It is the ulimate hotshot transport trailer. Equipped with three 7,000# Dexter Leaf Spring Axles with EZ Lube Bearing System and 8 on 6/12" hubs with 9/16" heavy duty studs, Electric Drum Brakes, 2"x8" Main Frame Steel Tubular construction, 2" SAE Kingpin 5th Wheel Coupler, New Radial G rated tires, Steel OEM 16"x6" wheels, Dual 12,000# Spring Loaded Drop Leg Jacks, LED lighting, 7' Auto Loading Ramps, 2 Spare Tires, HDPI removable fenders with heavy duty supports, Emergency Breakaway Battery system with self test feature, Safety Chains and 7 way RV style electrical plug. The Universal Bunk system allows you to move the standard bunks all over the trailer making it easy for you to transport boats of all types. The trailer is built with cross members every 5 feet for extra strength. There are 7 bunk holders on each cross member allowing you an infinite number of bunk arrangements. The optional carpeted adjustable bunks supplied with the 48' trailer are two 6' straight (2 post), four 2' straight, three V-block and 6 adjustable height screw pads. Bunk holders are located on the outside of the main frame for optional Boat Racks. Options include winch pad, Flexible Fenders, Tool Boxes, Sailboat Keel Pads, and Rock Guards. Trailer is new in appearance and condition. Trailer is available and ready to work Now! No lengthy wait from factory and 80% of replacement cost. Located in N.C.


Price: $20000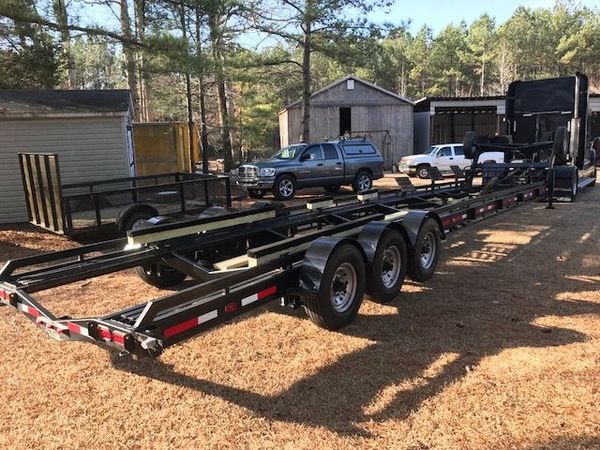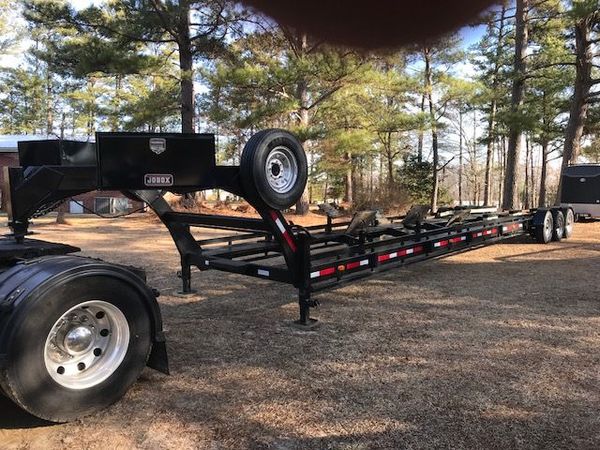 ---
BOAT TRANSPORTATION | AUTO & FREIGHT TRANSPORT | MARINA & BOATYARD EQUIPMENT

7 Maplewood Street, Mattapoisett, MA 02739
TEL: 508-758-9409 | FAX: 508-758-4014 |EMAIL: boattransport@comcast.net
© Maritime - Boat Transporation and Marina & Boatyard Equipment. All Rights Reserved.